Sofia in the Novorzhevsky District government conference hall.
Poto:
Vladimir Averin
|
Glasnaya
In 2010, Sofia Pugachyova, an electrical system designer, moved from St. Petersburg to a remote village in the Novorzhevsky district near Pskov. A few years later, she ran for an election from the Yabloko party and was elected as the head of the district government. There is no gas heating, movie theater, or public swimming pool in the district, and people have to wear rubber boots almost all year round. But most importantly, it is the first time the district is headed by an opposition party representative.
Glasnaya spoke to Sofia Pugachyova about what it was like to administer an economically depressed rural district, how to get accepted by villagers, and which contribution women could make to Russian politics at the local level.
On 8 september, 2019, Sofia Pugachyova won the direct popular vote for the head of the Novorzhevsky district. She got 45.95% of votes. Before that, Pugachyova ran for legislative offices as a Yabloko member and was elected as a village (2015) and then a district (2019) deputy.
In September 2019, United Russia lost in three of the six districts in Pskov Oblast. Today, five of the 24 districts are headed by Yabloko party representatives, and more than a half of all district heads in the oblast are women. Two of them are Yabloko members—Sofia Pugachyova in Novorzhevsky district and Svetlana Vasilkova in Pustoshkinsky district.
Sofia Pugachyova has become a vice-chairperson of the Pskov branch of the Yabloko party and a member of the party's Federal Council.
There are 75 hundred people living in Novorzhevsky district now. Over the last 60 years, the district population has dropped fourfold.
"People just wanted a fair election"
They always pay close attention to the Yabloko candidates. We were checking the election documents extra carefully so that they didn't have a chance to disqualify me. We had an absurd situation: we used the music by an Italian composer for our video message, and they considered it to be a copyright infringement, even though we took the record from an open source. Our opponents used this against us, and the district court disqualified me just a few days before the election. I was really upset—it always throws you off the stride when someone doesn't play by the rules. We received the composer's permission with his handwritten signature. In the end, we filed an appeal and won the case. The court decision of disqualifying me was reversed.
There was another ridiculous situation: the Communists of Russia nominated a cleaning lady that worked at the market, her name was Svetlana, and she had the same last name as me. She took 42 votes away from me—simply because her name was one line above mine on the list of candidates. I don't know how they convinced that woman to participate. Perhaps she just didn't realize what they had dragged her into.
I think we managed to win because people of different political views joined forces. I was supported by communists, people who didn't belong to any political party, and those who had previously supported United Russia but changed their minds. It wasn't really about voting for me as much as it was voting against United Russia. But I think my five years of work as a deputy also counted: people knew I was listening to them and trying to make their lives better.
Election monitoring became crucial for us, especially at the polling station in Zhadritsy—that's where I was ahead of my opponent by more than 70 votes. That would be enough to let me win. When voting was finished, I went to the district election commission. Nine of the ten polling stations, except for Zhadritsy, had already entered the data into the system. We kept waiting for the last station, but it never came. We felt like something was wrong. So we decided to go to Zhadritsy. It turned out they weren't letting the local election commission out. They were trying to make them falsify the election results, even though our observers were there, too. They got a call from the oblast—we don't know the names—and they didn't let them go until they changed the protocol. We started figuring out what happened and explaining to the commission members that vote falsification was a criminal offense. I guess it worked, they took the vote count and went to Novorzhev. We were accompanying the commision to the district administration building until they entered all the data into the form.
But we had another surprise. The district commission chair locked herself with her assistants in the office of the deputy district head. They were discussing what they should do with us. It was past 1 a.m. Finally, they came up with a complaint that had been allegedly filed five minutes before the polling station in Zhadritsy was closed. They tried to persuade the commision members to accept the complaint. In the end, we managed to save these votes. I won at half of the polling stations but those 70 votes in Zhadritsy became crucial for our victory.
I came home at around 5 a.m. Only then did I realize that I won. I called my parents. The next day, people started posting like, "A housewife won the election, the district won't survive it."
"I didn't really strive to become a district head"
I have never even thought about politics. I never strove to be a deputy, let alone a district head. It just happened. When you have principles and you run across dishonesty and unfairness, you will not ignore it. You will try to do something. You don't know if it will work or not, but at least you will stay true to yourself.
My mom is a pediatrician, she has been working with kids her entire life. My dad is a physicist and a mathematician, he used to work at a school but later switched to the oil industry. I've always been good at science and engineering. It seemed like you could always find a job having technical education. Even in politics, you have to not only talk, but do something as well. And not everyone is capable of that.
After getting a degree in aircraft electrical machinery engineering at Ufa State Aviation Technical University, I started working as a technologist at a local factory. We produced electric motors for military equipment, vacuum cleaners, and pumps. Then I worked for a private company. Later, I did projects for oil fields for Lukoil. In 2009, I moved to St. Petersburg to live with my husband.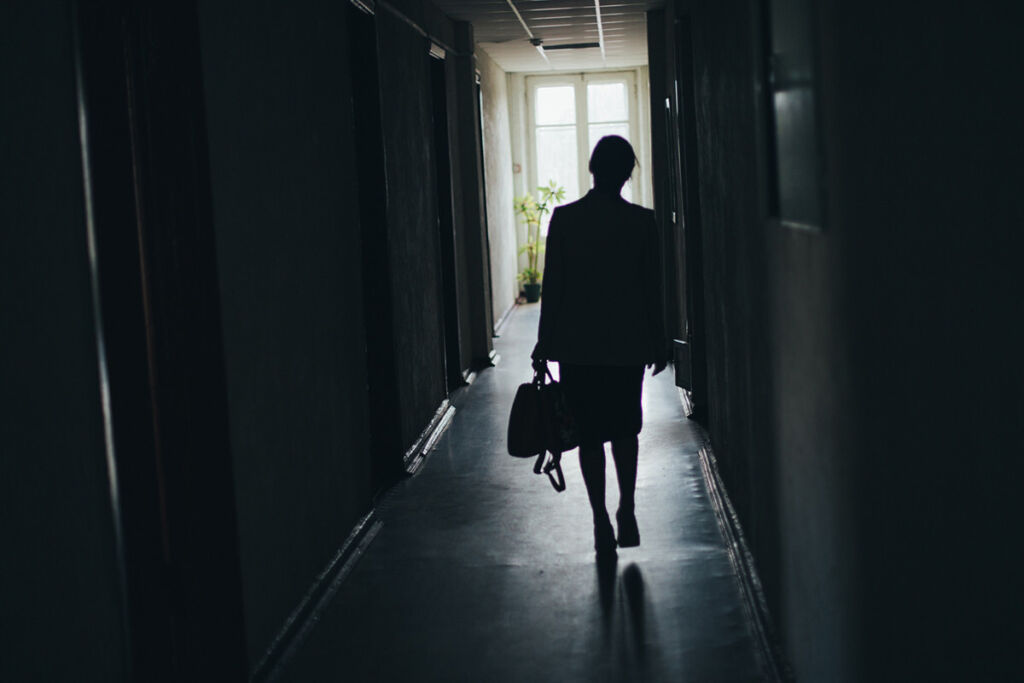 Sofia in the Novorzhevsky District government corridor.
Poto:
Vladimir Averin
|
Glasnaya
I met my husband on a horse trek in Bashkiria. We knew from the very beginning that we couldn't live in a city, so we began looking for a place in the countryside. We chose Pskov oblast—the air there is cleaner than in Leningrad oblast. One day, we found a place—a house in the Lyabino village. It stands on the hill, there is a lake and a beautiful view. We had been saving to move there and build a house for a year. At that time, I had to choose between working and making a career or finishing the house. If you don't finish the house in the first few years, the construction will never end. I chose the house, and in 2010, we moved to Lyabino.
When our home was done, we had a baby. Two years later, I started looking for a remote job—I was fine with anything. New technology is constantly developing in design so I'd have to catch up. But doing it while staying with a kid in a village was hard—our boy is very active, he likes running around and exploring the surroundings. I had to look after him all the time. My husband was working, he is a technical writer in IT. His income was enough for us to get by.
And then, my deputy career happened. In 2015, there was a unification of volosts happening in Pskov oblast. The local deputies signed the merger decision when it was already made. I realized the deputies had power and decided to get it too. This was basically a volunteer work:
While I was a village deputy and tried to solve various problems, I often received non-committal replies to my requests. Even the prosecutor's office didn't help to achieve anything. When I became a district deputy, I faced the same difficulties. So I decided to try joining the executive branch.
I remember how we were looking for candidates in Yabloko. I proposed a candidate but he didn't see himself as a district head. It was clear that people were tired of the stagnation and hopelessness under the previous district head. That's when I realized: we were either running for election or losing five more years, which the district could have simply not survived. I didn't really strive to become a head—it may sound pretentious but I was worried about the future of the district.
"I was reporting to the deputies for almost three hours"
The first thing I had to get used to at the new post was regular public speeches. The most stressful thing was reporting to the deputies last year. They assessed my work performance as unsatisfactory. As a result, they had to deal with me in court. We appealed against their decision because you should never tolerate such things. Their decision wasn't legal: deputies have the right to assess the work of district heads over the last year, but they decided to do it after my three months in office. Perhaps it was the previous head's performance that was unsatisfactory. As a matter of fact, deputies aren't obliged to assess my performance—they can simply listen to my report. But when they rate your performance as unsatisfactory twice, it is enough to remove you from the office. Obviously, that's what they were trying to do.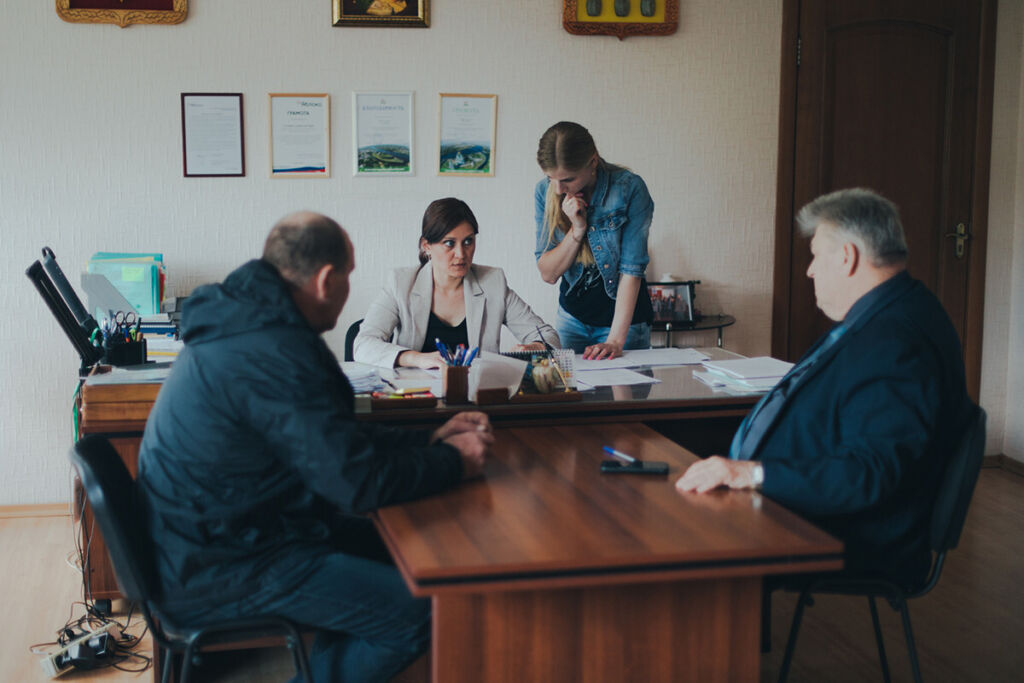 Sofia at work in her office.
Poto:
Vladimir Averin
|
Glasnaya
The local deputies are just doing what they are told to do. I don't have any problems with them. But they are the ones following the commands given by people above them. For example, they were represented in court by the lawyers of Alexander Kozlovsky, a member of the State Duma. When we won, they appealed to the regional court but the appeal was dismissed. I'd like to believe you can still trust the judicial system.
This year, I felt more comfortable during the report, I knew what to expect: a lot of numbers, facts, and questions. I was reporting for almost three hours, and then they were asking questions for another hour. It felt like they all were given specific roles and were asking me questions somebody from above had written for them. You could see it: one could ask a question reading it from a piece of paper, on a topic he never raised during sessions. Moreover, United Russia members all sit together and ask mutually exclusive questions.
They didn't assess my performance this year. I know they were planning to rate it as unsatisfactory. I believe they just wouldn't have gotten enough votes. There are 18 deputies, 12 of them are from United Rusia—three uncertain members would be enough [for the assessment not to pass].
I am outraged by some deputies' hypocrisy. When Pashkov was the head, there were almost no questions. They would say, "Of course, our district is experiencing difficulties but work is in progress, the head is doing his best."
"They are in opposition now"
But then, I support the idea that you should always give people a chance to change and make amends. District deputies used to vote at the instruction of the district head—I used to be a deputy too, so I know how it was done. For example, that's what they did with closing the local newspaper: at first, they voted against it. Later, they were talked into the opposite: the local self-government committee chairwoman came to a session from Pskov and told them about the advantages of newspapers merging. And the same people voted in favor.
I tell them, "Revert to your human form, nobody is putting any pressure on you right now. Can you vote like normal people?" If you talk to them individually, they understand everything. We even manage to solve some problems together. But during the session, they vote collectively. Even though here, in the district, they're absolutely safe: they won't get fired, they can just vote for what they think is right. But now, it looks like the pressure comes from the oblast, so they vote according to what had been "advised" to them. But explaining this to them doesn't work.
I felt sorry for them last year and tried to treat them with kindness. But now I think it's enough, they're grown people. They most probably understand what they're doing. Of course, there are deputies I got along well with. We can discuss problems together now. A few months after I took up a post, they started feeling more comfortable: they realized there was nothing to be scared of and they weren't getting fired. I mean that some of our deputies are directors of municipal institutions—they get appointed by the district thead.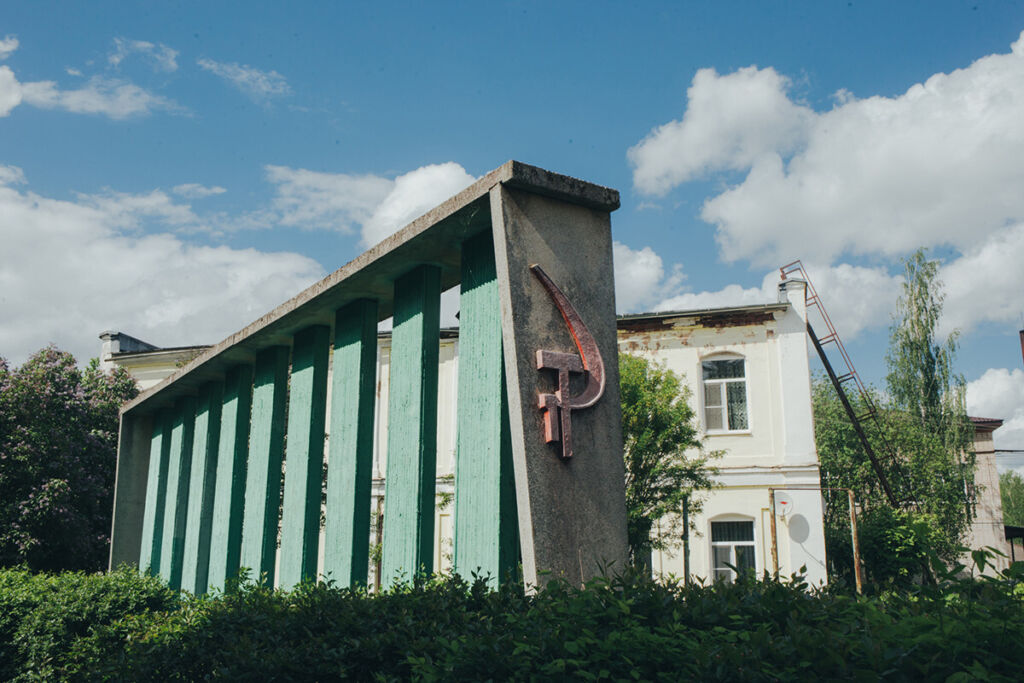 At the building of the Novorzhevsk district government.
Poto:
Vladimir Averin
|
Glasnaya
What are the benefits of having a district head from the opposition party? United Russia is now actually trying to do something. Before, they used to get away with making no effort. But now they really have to prove themselves. They are in opposition now so they have to earn recognition. All this benefits the district and people living there.
"They were using my name during the election to village assemblies"
The 2020 election to village assemblies resulted in members of United Russia taking the majority of seats. There are independent candidates or those who don't formally belong to any party, but they are still a part of United Russia. They were supervised and curated by United Russia. The latter, apparently, needed this to create an illusion of diversity.
I think if it wasn't for voting from home, Yabloko members and candidates from other parties would have entered village assemblies. During the vote counting, it became clear the real election took place before the main election day, and United Russia won. But there were reasonable results on the actual election day—people didn't only vote for United Russia.
Later, district residents told me that poll workers were coming to people's homes and using my name. Elderly people didn't know the details, so they said, "I'm voting for those who support Sofia Pugachyova." And poll workers showed them United Russia candidates. Not only they weren't supposed to suggest candidates to the voters, they also did it in such an audacious manner!
But they are all on party lists. It would be hard to explain why your neighbour, a member of United Russia, would be a worse deputy if she was a member of another party. The key difference is that nobody forces you to join Yabloko, it is always your rational decision. United Russia members are told, "Somebody has to do it. It should be you." And if that person refuses to participate, they say, "Find someone who will run for election. If nobody wants to, you will." As a result, those who don't know why they need politics start working in politics. I know that some United Russia deputies—members of the district assembly—have never even opened the district statute.
Our people don't want to get involved in politics. But they don't realize it has already entered all the spheres of our lives. So when they start putting pressure on a deputy neighbour so she votes "as expected", people can forgive her because they are neighbours. And she gets elected again. That's what happened when the people who merged the volosts became deputies after the 2020 election to village assemblies. I can't explain it.
"Big politics never reach this place"
I got a call from the local police in January. They wondered, "Do you know if they are planning rallies in support of Navalny here?" The officers were probably testing the waters. I told them I didn't know anything about it. I was also curious if people would go to rallies. I still believe people have the right to freedom of peaceful assembly.
But no one showed up for the rally in January. Big politics never reach this place.
I think we do have opposition supporters in the district. They just don't express their opinion even though they have nothing to fear here. There is a park in Novorzhev where up to 100 people can gather for a rally without a permission from the government. But no one has ever taken this opportunity. When I couldn't get a room for my campaign events, I held them at that park.
Once, in Pustoshka, students hung Navanly's portrait instead of Putin's on the wall. The police tried to prosecute the schoolchildren bringing the commission on juvenile affairs to school. But the deputy head asked, "Which law did they break exactly?" And the investigation stopped.
"I've never met the governor in eighteen months in office"
I get on well with almost everyone these days—not only with the deputies but, most importantly, with the residents. They treat the authorities differently now. Even those who didn't vote for me—about half of the voters—know they can always come to me and I'm open for conversation.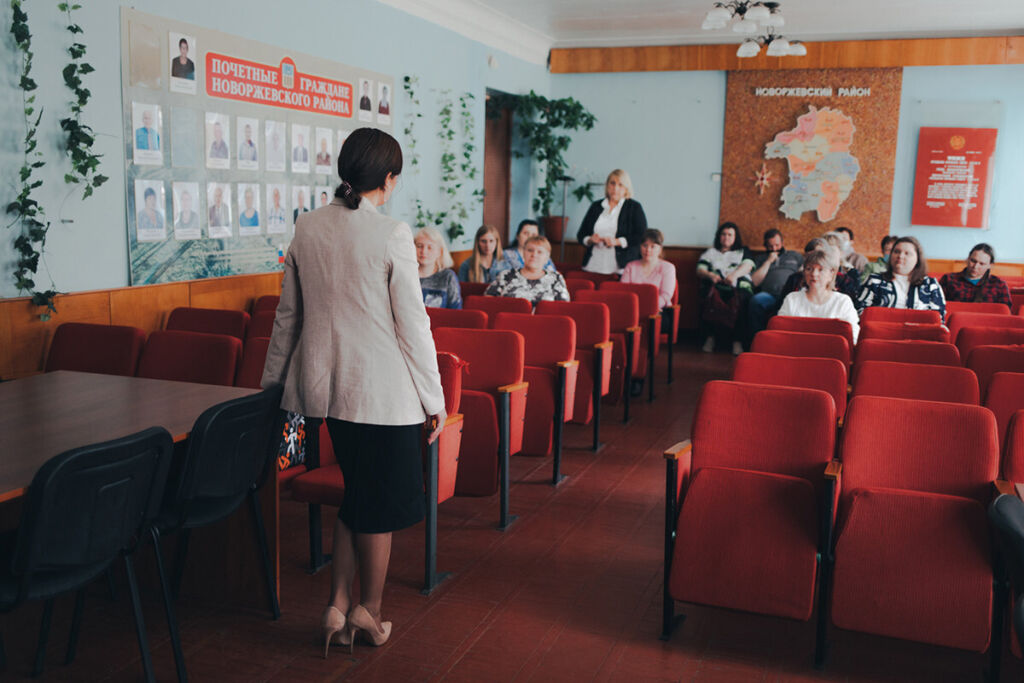 Sofia holding a meeting at the Novorzhevsk District government conference hall.
Poto:
Vladimir Averin
|
Glasnaya
However, I've never met the governor in these eighteen months in office. There are only two people he doesn't have meetings with—Svetlana Vasilkova and me. I don't think it's a coincidence. I have sent him meeting requests multiple times. Once he had a five-minute meeting with the heads of the districts once, just before the New Year's Eve. We managed to have five more minutes with him. I asked him to reschedule the funding of the sports and recreation center for the next year, 2020. We put the project out to tender only when I became a head, but it was too late. He said that all the districts were treated equally and if a district government couldn't put the money to use in a year, it had to go back to the regional budget. He promised to discuss the problems of our districts next year. But the meeting hasn't been held yet and we still don't have a sports and recreation center. But it is going to be built this year, the oblast committee will allocate the money for it. I don't care who is going to do it, I just want the center to be built. I'm not dying to put the "I did it!" label on the sports center.
It was a tough winter. We ran out of wood sometimes. There was a heating system failure in the district school. The system is old, it hasn't been flushed since the end of '70s. School staff and public utility workers spent days and nights at work during the winter break.
In spring, we have to face another problem—bad roads. Heavy vehicles create deep ruts on the country roads which turn the latter into mud. It's very hard to drive, even if you have an off-roader. Hey, your heels sink into mud when you leave your house and go to the car.
We are slowly repairing the roads. Last year, we repaired three streets. We are working on the other two this year. Also, we are planning to repair the square in front of the bus station. It is in a really poor state at the moment. People come to our town and the first thing they see is this square. The road facilities committee has promised to support the repairs financially.
I used to do my best to post work reports on social media weekly. But now, I don't have enough time, so I do it once every few weeks. I usually report on what stages the projects are at and how the current problems are being solved. Such posts usually get about a couple of thousand views—it's one quarter of the district population. I take notes of comments with constructive criticism. People that are against me write negative things. They think it affects me but it actually doesn't. I just think of how much we would have achieved if those people used their time and energy wisely. I also wanted to start the electronic document flow in the government. However, they keep delaying the project since the software costs money. It's all about money, as always.
"Business matters should be discussed without alcohol"
It wasn't the bigger salary that made me run for the district head election. Money mattered, of course, but it wasn't the main reason. Applying for this job just to make money is pointless—it's not worth your mental health. You can make good money just by moving to the city.
Politics has become a lifestyle for me. You always have to be in touch with everyone, there is no other choice. It is impossible to detach from work completely. I get 84 thousand roubles every month, plus 70% on top as a vacation bonus once a year. I also receive money compensation for my health resort treatment. But last year, I only had twenty days of vacation instead of fifty. And those were not proper days off: they kept calling me during the first days and then, before I knew it, I had to get back to work. When my colleague Svetlana Vasilkova took a few days of vacation during the pandemic, people almost compared it to leaving the district during a war.
Obviously, it doesn't make sense because
A woman always has to radiate positivity. If she is well-rested and content with life, she is energetic and shares her energy with others. This summer, I'd like to visit my parents in Bashkiria and spend a whole month with my family.
On the one hand, I'm inspired by district residents who want to see change. But at the same time, I try to keep my distance. Even when I come to say happy birthday to a war veteran and they invite me for a drink, I don't let myself do it. I could say yes to a cup of tea and a slice of cake so as not to upset the hosts. For me, meeting someone is primarily about talking to them and getting to know their story.
I personally think business matters and alcohol shouldn't go together. A funny thing happened recently: Alexey Karasyov, a district deputy from the LDPR party, recommended the head of the Pustoshkinsky district—Vasilkova—to be friendlier with other bureaucrats. He said that if necessary, problems should be discussed in the sauna because "that's how things work in Russian politics." But here, in Pskov oblast, 82.8% of municipal office and municipal service workers are women. 56% of senior positions are held by women as well—Pskovskaya Guberniya newspaper recently wrote about it. Should they all address issues in the sauna? Of course not. That man just wanted to humiliate Vasilkova, this particular district head.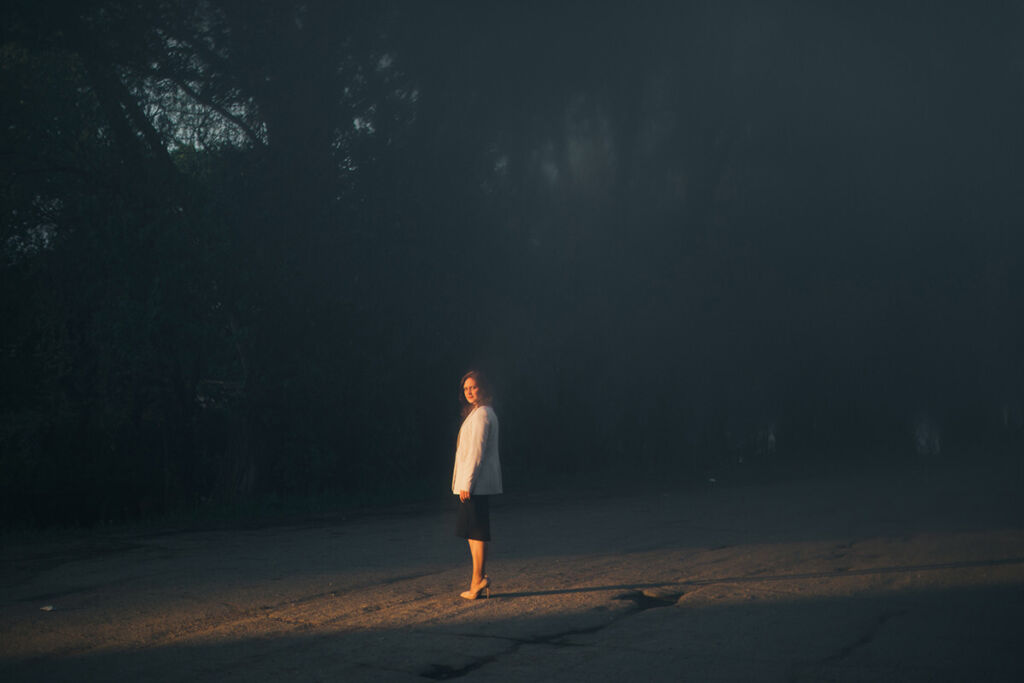 Sofia.
Poto:
Vladimir Averin
|
Glasnaya
I try to maintain my distance at work and keep things private. I'm friends with a small circle of people I used to be friends with before the election. I also try not to share personal things on social media. I don't want to make my family involved in my work, which can be too emotional.
"I am the last to leave"
Ever since I became the district head, I've been having five hours of sleep every night. I try to convince myself to sleep longer on the weekends. Sometimes it works but I still have difficulty sleeping. So I don't get enough sleep to feel well-rested by Monday. I often leave work at seven or eight p.m. when there is no one left in the building.
I don't have time for sports either. I come home feeling exhausted. I know you just need to be patient and you'll start enjoying the run after a few kilometres. I did orienteering, athletics, and ran 3,000 and 5,000 metres distances in the university. I managed to go skiing during the winter break. I'm thinking of cycling to work in summer. It's quite far, though, around fifteen kilometres from my village.
It's been a while since I last read a book. I usually go for news. I scroll through local social media pages and read the feedback every day. I started receiving more constructive criticism in the last year. But sometimes bots leave their comments too—I could sue them but I don't want to waste my time.
To be honest, I like silence and having some time for myself. Taking a walk in a forest and listening to birds singing is my way to relax. Meditation music helps me fall asleep in just a few minutes—I sometimes find myself awake at two a.m. thinking about something.
"Women are better at negotiating"
I have a female style of managing. It's more gentle. Sure, there are tough women out there, but I'm gentle and trust people more.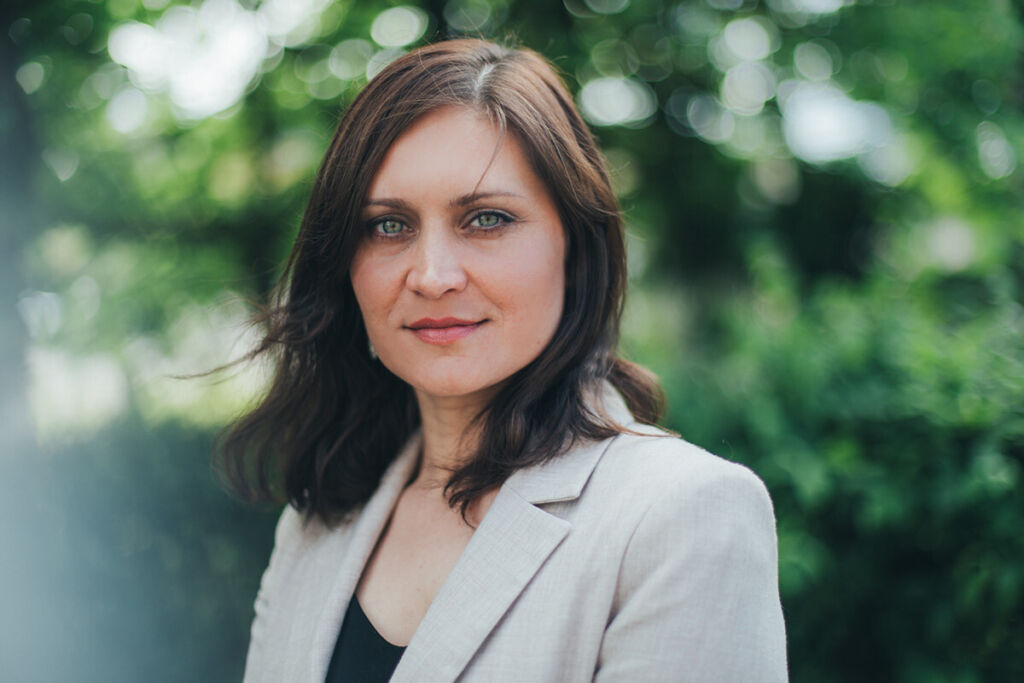 Sofia.
Poto:
Vladimir Averin
|
Glasnaya
Besides, women are better at negotiating. I personally feel like we are all tired of aggressive behaviour in politics and constant pursuit of power. It would be great to bring people together but they get more and more disconnected from each other every year. I can tell from my own experience with local communities: when I propose a discussion topic, people often meet it with hostility. I believe everyone should have political awareness and basic information about community life, for example, knowing who provides services for your street or who has to put a streetlight in your village. You don't have to contact the district head to solve these issues. It happens that people try complaining about me directly to Putin.
I try to allocate responsibilities. You can organize people or you can deal with everything on your own—like a woman who does all the household chores on her own, which leads to everyone taking advantage of her.
I try to say no when it's necessary. I always feel uncomfortable when I have to say no to people who actually need a place to live. It's a vicious circle. People apply for public housing but we can't provide them with accommodation if it hasn't been renovated. And there is no money for renovation. There are also cases when the place where a person is registered is in really poor condition. I'm used to talking to people in the language of law. But sometimes, law is against people. And that's when it gets hard for me.
I try to be strict sometimes. I have forty people reporting to me. I think that in a good team, coworkers have to understand each other so well they finish each other's sentences. There are often misunderstandings arising over what the final result should look like. I get angry in these situations but it's probably my fault—I failed to set a task properly.
I try to improve living conditions in the district. So, in a way, I am indeed a housewife. And there's nothing wrong with it. When I became the district head, haters started writing things about me on the Internet. For example, that I was a "housewife" or that I was a lab assistant that only managed to hold the position for half a year. But let me remind them I have never worked as a lab assistant and I wasn't fired, it was my decision to quit. The information about my work experience was published during the election. I was always an engineer and could continue growing in the field and becoming a project manager. But I chose a different path. What do these people think they can teach me?
I try to bring people together but often face rejection. It's like living in a communal apartment. For instance, to change a broken heater, all housemates need to collect money. Everyone has different problems and eventually they start arguing. But all the housemates need warm water in any case.
For example, if we're having a subbotnik in town, there will always be a person who will accuse me of not cleaning a ditch near his house. As one of the commentators said, "It wasn't Pugachyova who personally went and made a mess there!" Other residents and organizations joined the subbotnik and cleaned their assigned areas.
It makes things very difficult. In cities, people gossip and talk less. Nobody wants to know the details of their neighbour's personal life. People just want to achieve their common goals.
I once called Novorzhev a "little Venice" meaning its hidden beauty. After that, people started joking that in spring and autumn, we drown in puddles as if we live in Venice. But I want to create a beautiful embankment and actually make this town a "little Venice". It's in my long-term plans. And again, I don't understand people's lack of initiative. Such projects should be proposed by residents and supported by the government. Technically, we have non-profit organizations but in reality, we have to develop them, we need self-starters. Today, there are activists but they are already engaged in volunteering. They physically can't do both. Those are mainly volunteers from arts and culture background and actors of the Novorzhevsk theater. They repaired community centers, a shooting range, libraries, they even build stoves. Unlike in cities, the volunteers here are people of middle age (30-40 year old). I'm talking about deliberate volunteering in the district.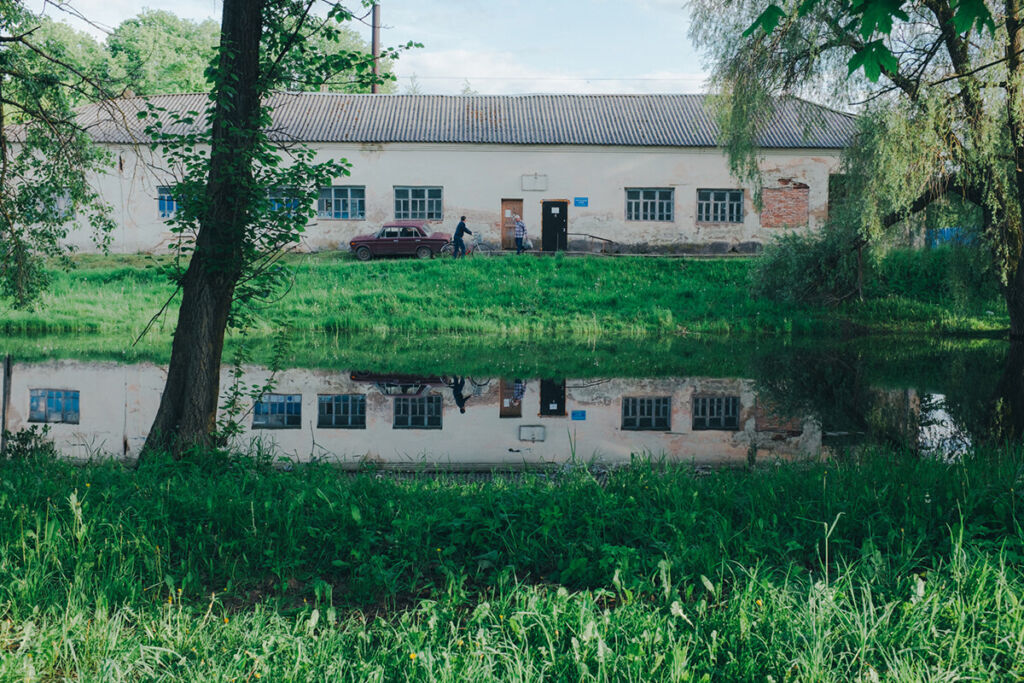 Novorzhev. Naberezhnaya street.
Poto:
Vladimir Averin
|
Glasnaya
We try to get young people interested in sports but many of them drink. It's not only younger people who drink: alcohol is available in shops and they make moonshine at home. Before the pandemic, young people gathered at the community center. But it's closed now. Many young people also use the Pyaterochka for gatherings—the same way teenagers gather in malls in bigger cities.
"I hate thinking life in Russia can become intolerable"
Apart from calling me a "lab assistant" and a "housewife", they also keep reminding me about my husband's dual citizenship. He has an American passport. After finishing school, he moved to the U.S. with his mom. Later, she came back and he stayed there for eleven more years. He was studying and working. Like many immigrants, he started off as a construction worker. Then he opened his own construction company. He told me that at some point he realized he would never become a real American.
I went abroad to see how others solve their problems and learn from them. In 2017, I went to Sweden with a school of local self-government to attend a seminar on collecting waste and its treatment. Unfortunately, in Russia the authority in this area was delegated from municipal governments to regional operators. Our district could have become like those in Sweden. We were shown a sustainable urban district where they collected rainwater, filtered it, and used it to water an awesome garden. This closed-loop system works perfectly!
In 2018, I went to the U.S. with the same school. I participated in a seminar with women politicians and entrepreneurs. It was in Louisiana, New Orleans. In 2005, the city was hit by a hurricane. A lot of buildings were ruined and many people went missing. They will never forget the tragedy. There was a woman who saved a factory from shutting down. She started demolishing destroyed houses and recycling the wood at that factory. She didn't have money to buy the entire factory right away but nobody got fired—workers started shredding wood and making tiles out of it. She is an interesting example of a businesswoman.
By the way, I talk the old-fashioned way—I don't use feminitives, they sound a bit weird to me. After all, I finished school in the post-Soviet period. I don't have anything against feminitives though. We need language to express our inner state and worldview to another person. But language is always changing with people. I already don't understand some slang young people use. And people don't really know about feminitives in the countryside.
I met Yulia Galyamina and learned about her school of local self-government in 2016 in Pskov. There were many interesting speakers, they talked about the European Charter of Local Self-Government and deputies' work. So when the bots write about my "political training", they probably mean those educational trips.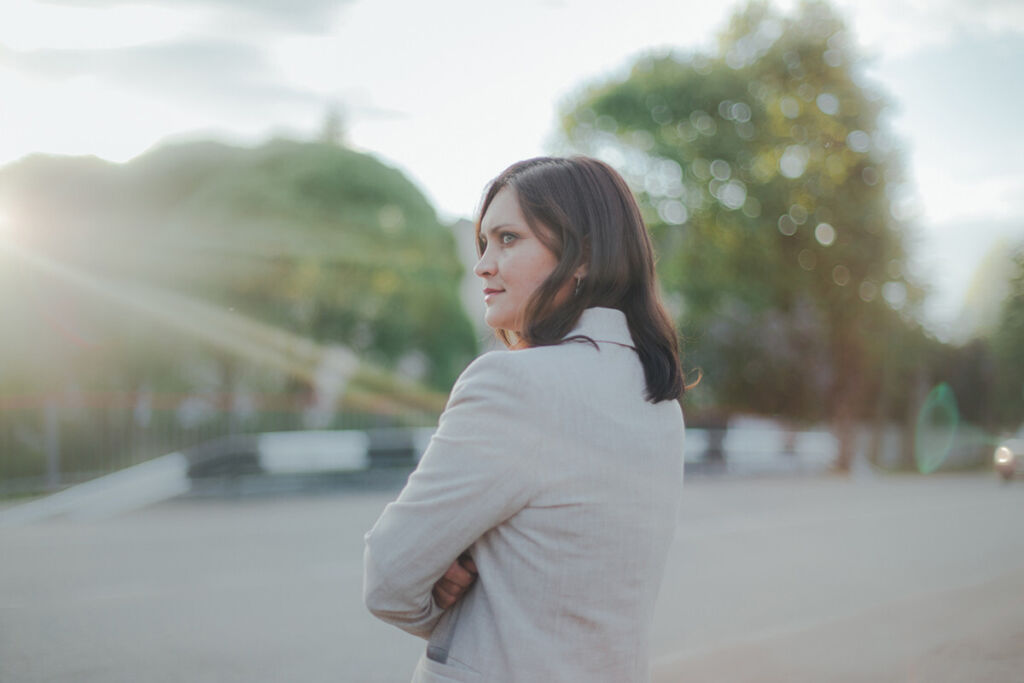 Sofia on a Novorzhev street.
Poto:
Vladimir Averin
|
Glasnaya
Luckily, I never had to deal with a threat of physical violence. Nobody ever threw bricks through my window, as it happened to Vasilkova in Pustoshka. Of course, during the election campaign, they tried to get me removed with their "black PR". But it's nothing compared to that incident. By the standards of modern Russia, false accusations I could deal with through court are considered to be soft pressure. The head of Pustoshka has it worse than me.
These days, I try not to think about my future much. If you start developing an exit strategy, you will definitely use it in the future. I hate thinking life in Russia can become intolerable and I'll have to leave. In order for this to happen, they have to come to my office and twist my arms. But then it would be too late for me to run, I guess.
The Influential series tells about women who are changing the social landscape in Russia and taking an active position in life. The Influential is about those who manage to create and contribute to future change.
The material is published in collaboration with Pskov province press agency.